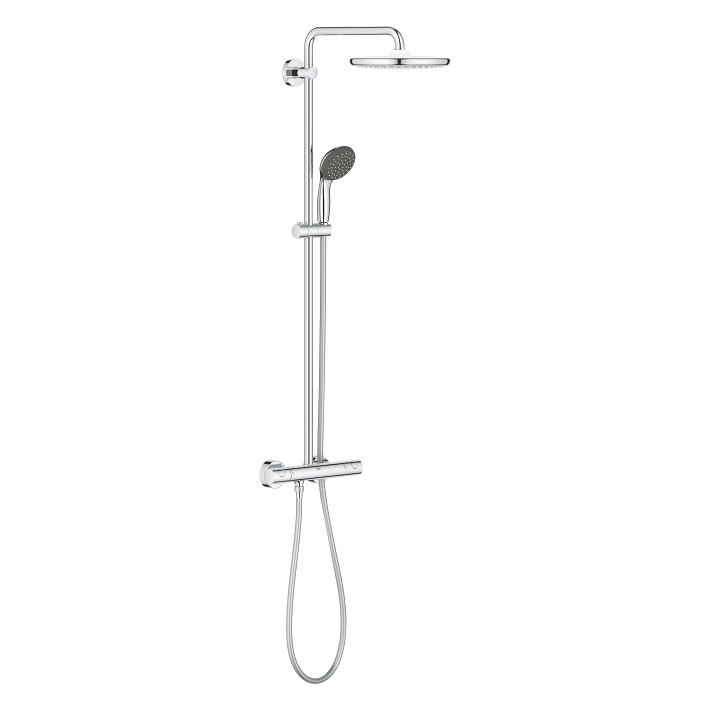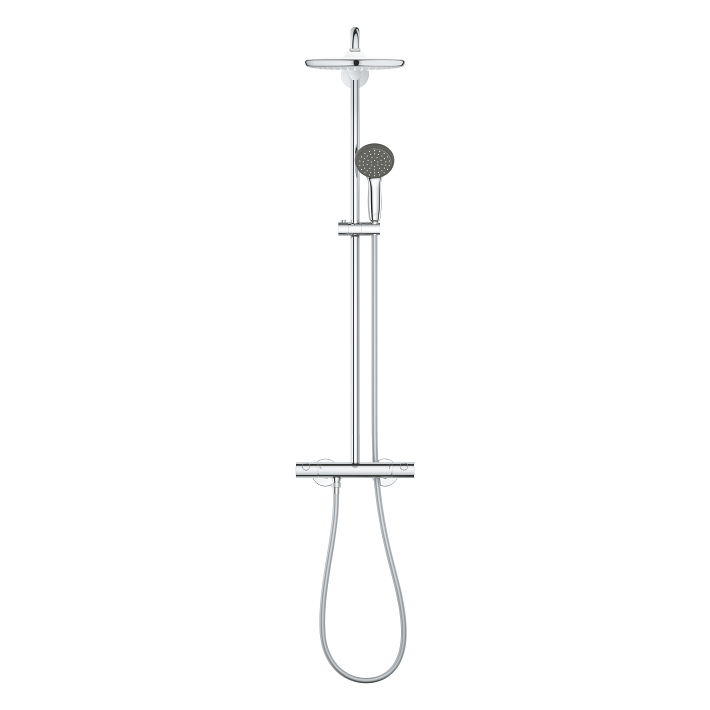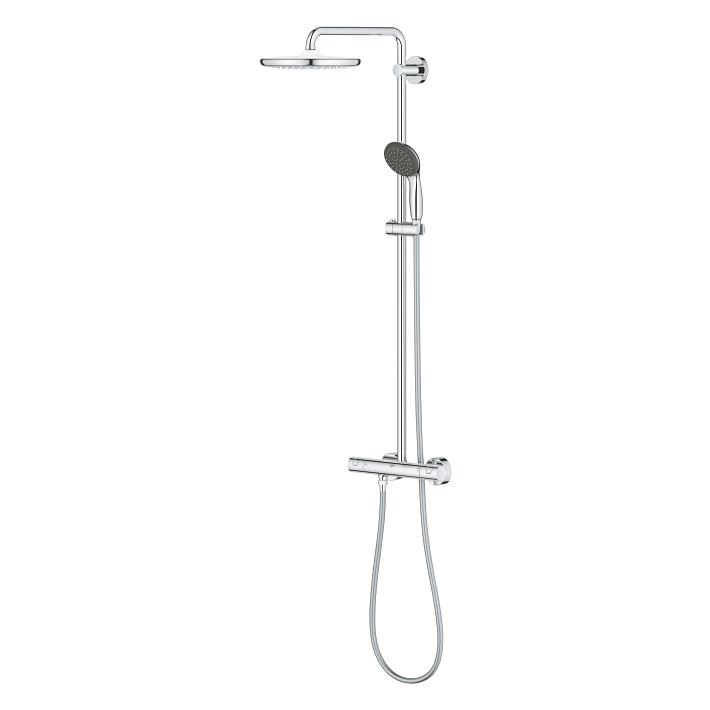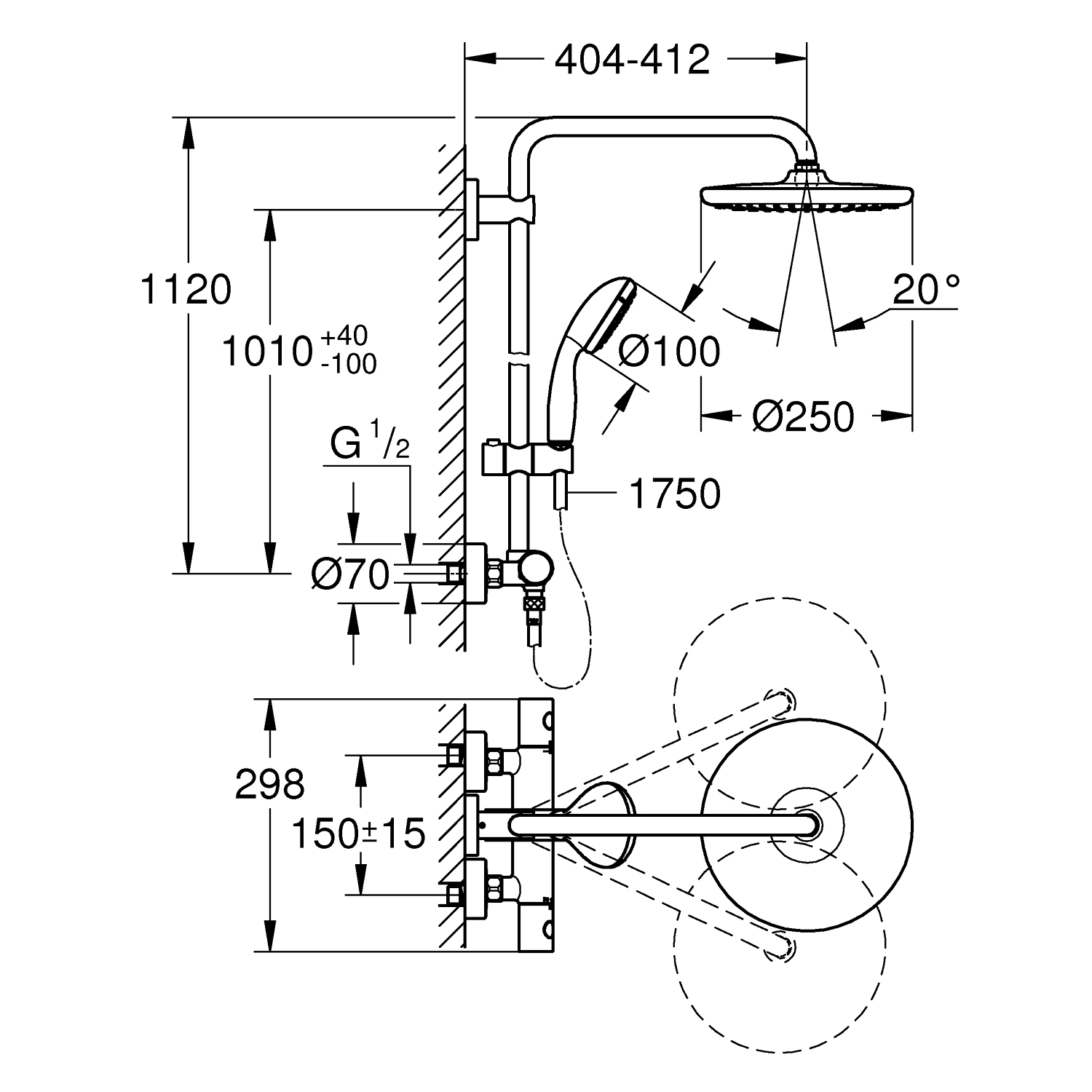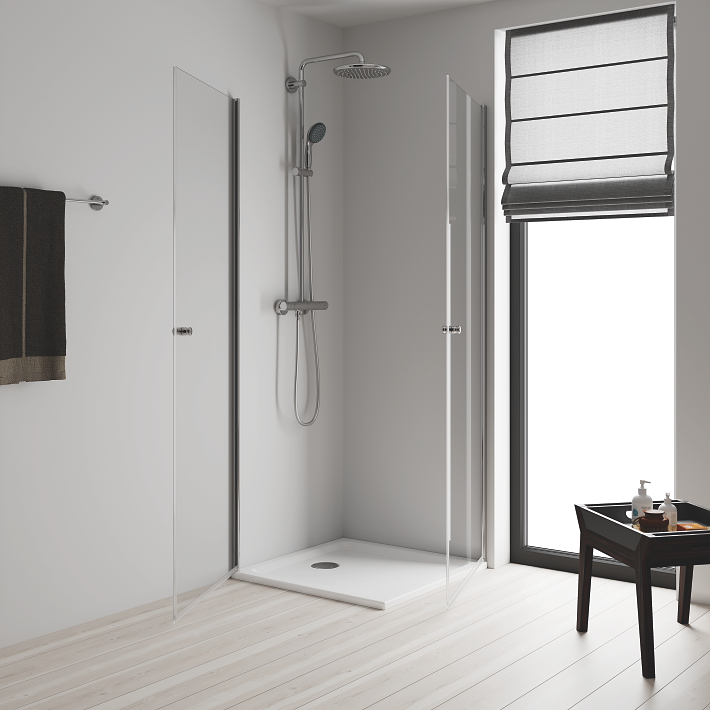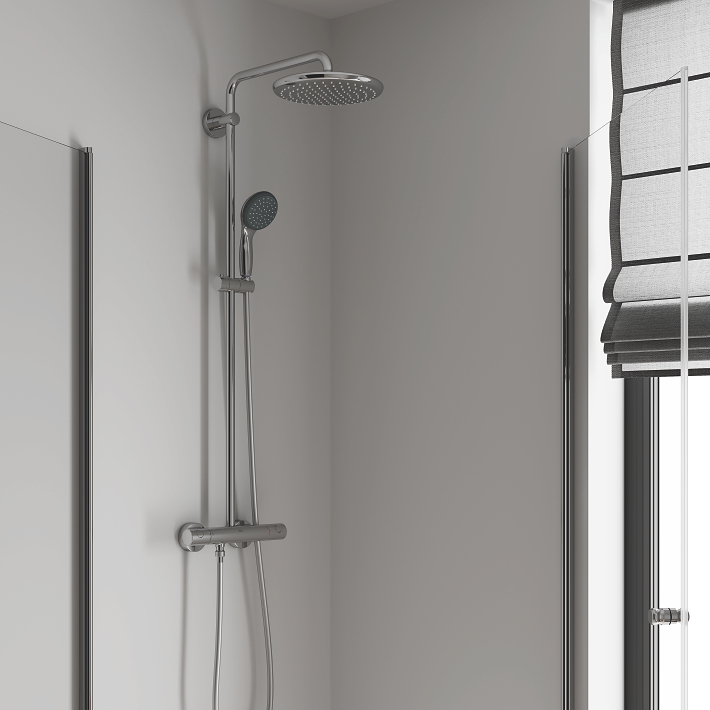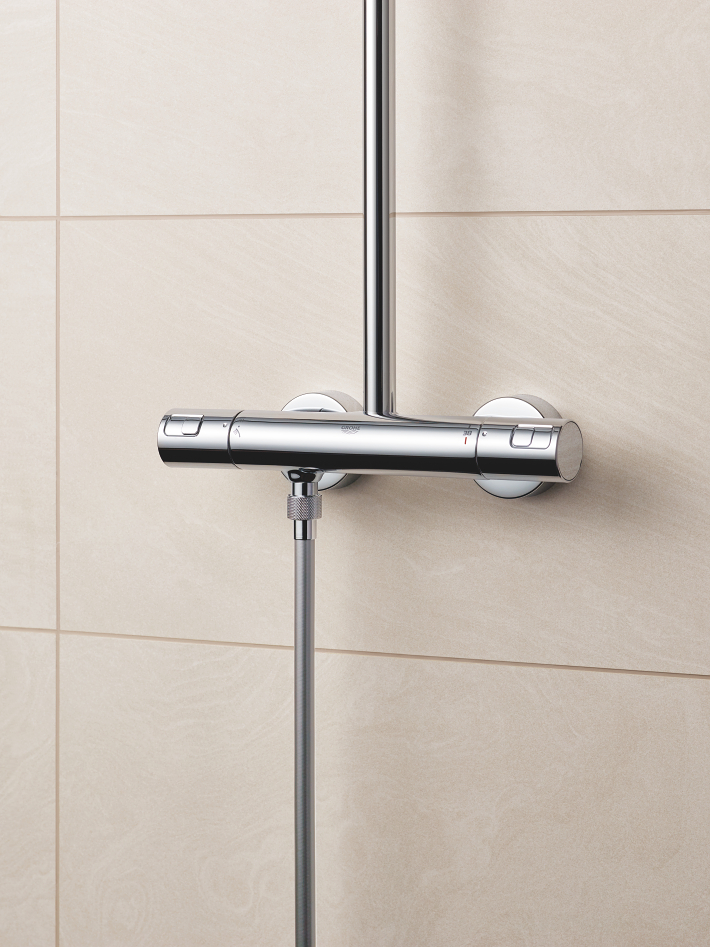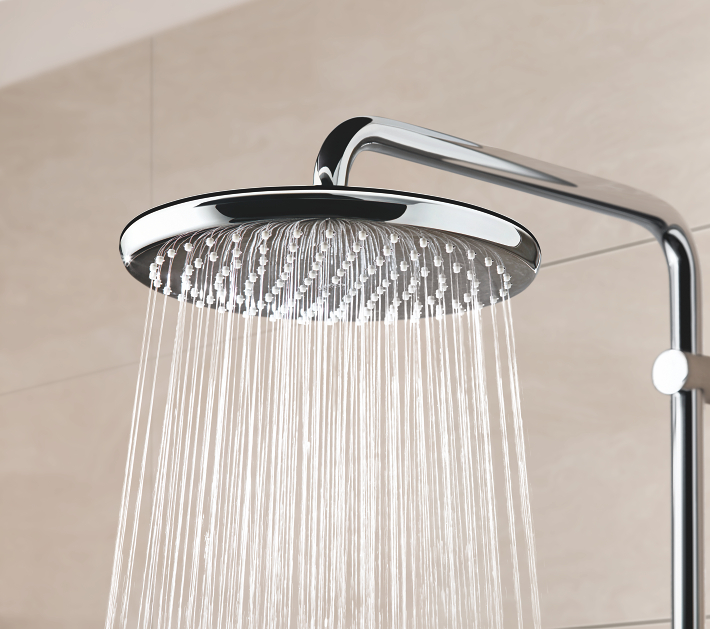 Vitalio Start System 250
Vitalio Start System 250 Shower system with thermostat for wall mounting
---
---
Experience all the benefits for convenience and comfort that a thermostat offers under a larger shower head. Designed to be wall-mounted, this exposed shower system features a Vitalio Start 250 head shower, a Vitalio Start 100 hand shower, thermostat, shower rail with 390mm swivable shower arm and gliding element to adjust the hand shower, plus a 1750mm VitalioFlex Comfort Twistfree hose. At 250mm the head shower creates a generous showering area and has an appealing slim profile. The spray pattern is the gentle, refreshing Rain Spray. The 100mm hand shower has been designed with an integrated ShockProof silicone ring to protect it against drops or knocks. There are 2 spray patterns to choose from on the hand shower – the soft Rain and the powerful, targeted Jet Spray. Both showers feature water-saving GROHE EcoJoy – limiting flow to 9.5l/min on the head shower and 5.7l/min on the hand shower – for reduced water consumption but the same great performance. GROHE DreamSpray technology keeps the flow from every nozzle equal and consistent, for a more enjoyable experience. SpeedClean nozzles on the shower can be brushed clean of limescale with a finger for easy maintenance. The shower system delivers water at a constant temperature with no nasty surprises, thanks to GROHE's TurboStat technology makes sure that the water is a constant temperature with no unpleasant fluctuations. The GROHE SafeStop override button is set at 38°C to prevent scalding and keep the whole family protected. And the GROHE SafeStop Plus temperature limiter can be set to limit to 43°C for an extra level of safety. Switch between head and hand shower and adjust the volume, all via one handle, with the AquaDimmer function. Its MetalGrip handles are ergonomically designed to be easy to operate even with soapy hands. You can be sure that the whole system will stay looking pristine for years to come thanks to the dazzling but hard-wearing GROHE StarLight chrome finish. For an optional extra add the GROHE EasyReach tray (26362LN1) for a convenient place to store soap and shampoo close at hand. Sold separately.
Product Details
Consisting of:
horizontal swivable 390 mm projection shower arm
upper bracket adjustable for minimal adaption to existing drilling holes
exposed thermostatic shower
with Aquadimmer function
allows change between:
head shower Vitalio Start 250 (26 676)
spray pattern:
Rain
head shower with white rear cover
ball joint with turning angle ± 10°
GROHE Water Saving 9.5 l/min flow limiter
hand shower Vitalio Start 100 (27 946)
2 spray patterns:
Rain, Jet
GROHE Water Saving 5.7 l/min. flow limiter
adjustable height via gliding element
shower hose VitalioFlex Comfort 1750 mm 1/2" x 1/2" (28 745)
GROHE Water Saving - Less water, perfect flow
GROHE TurboStat compact cartridge with wax thermoelement
GROHE SafeStop safety button at 38°C
( calibration required )
GROHE SafeStop Plus optional temperature limiter at 43°C included
GROHE DreamSpray perfect spray pattern
GROHE Long-Life finish
GROHE MetalGrip ergonomically shaped metal handles
SpeedClean anti-limescale system
Inner WaterGuide for a longer life
ShockProof silicone ring prevents damage caused by a shower falling
TwistStop preventing the hose from twisting
suitable for instantaneous heaters from 18 kW/h
minimum flow rate 7 l/min.
Consumer edition
Where do you want to buy this product?