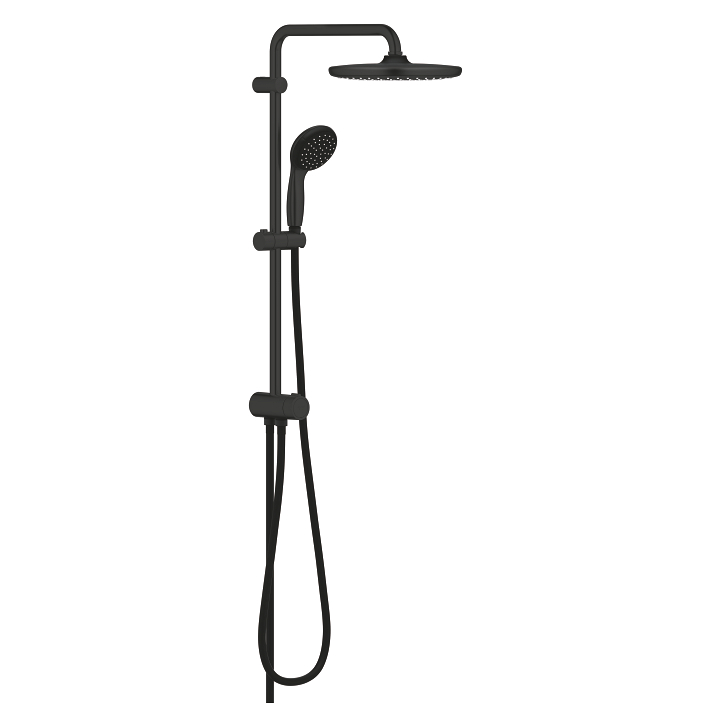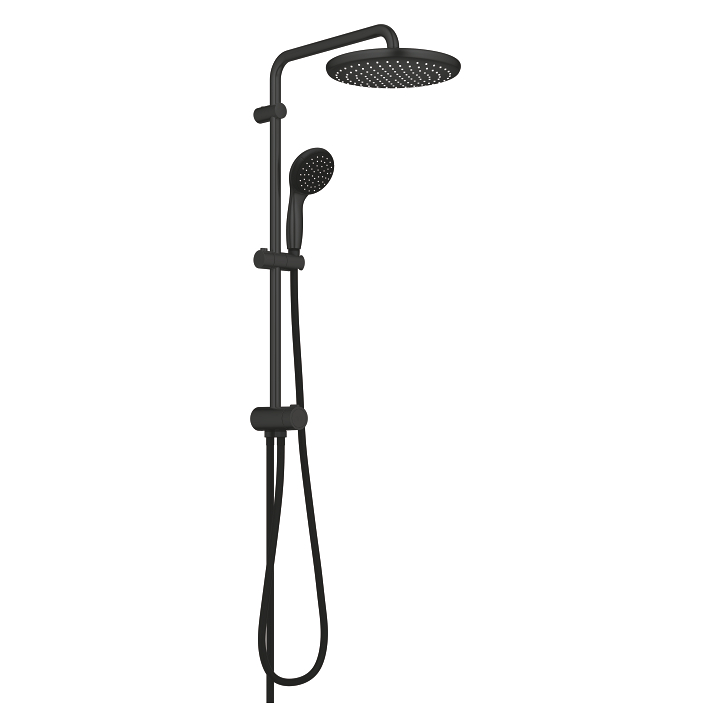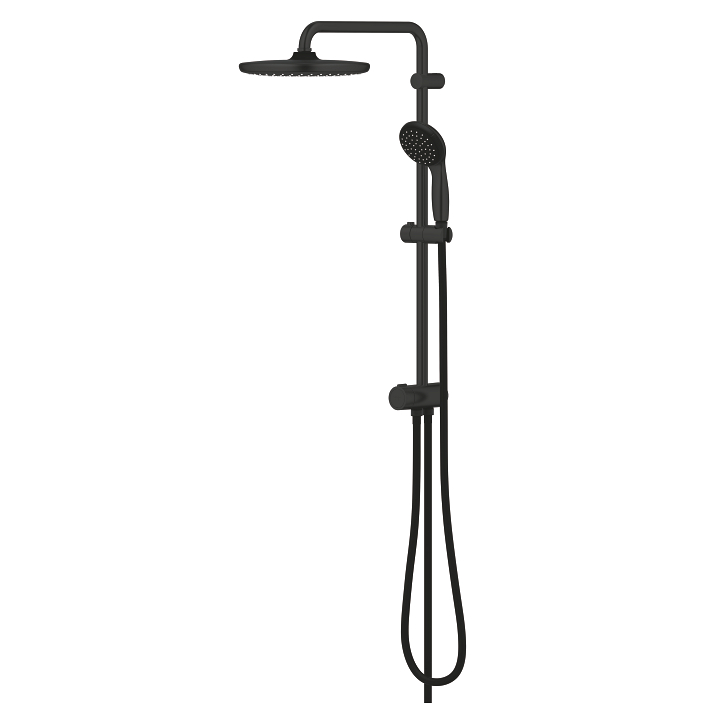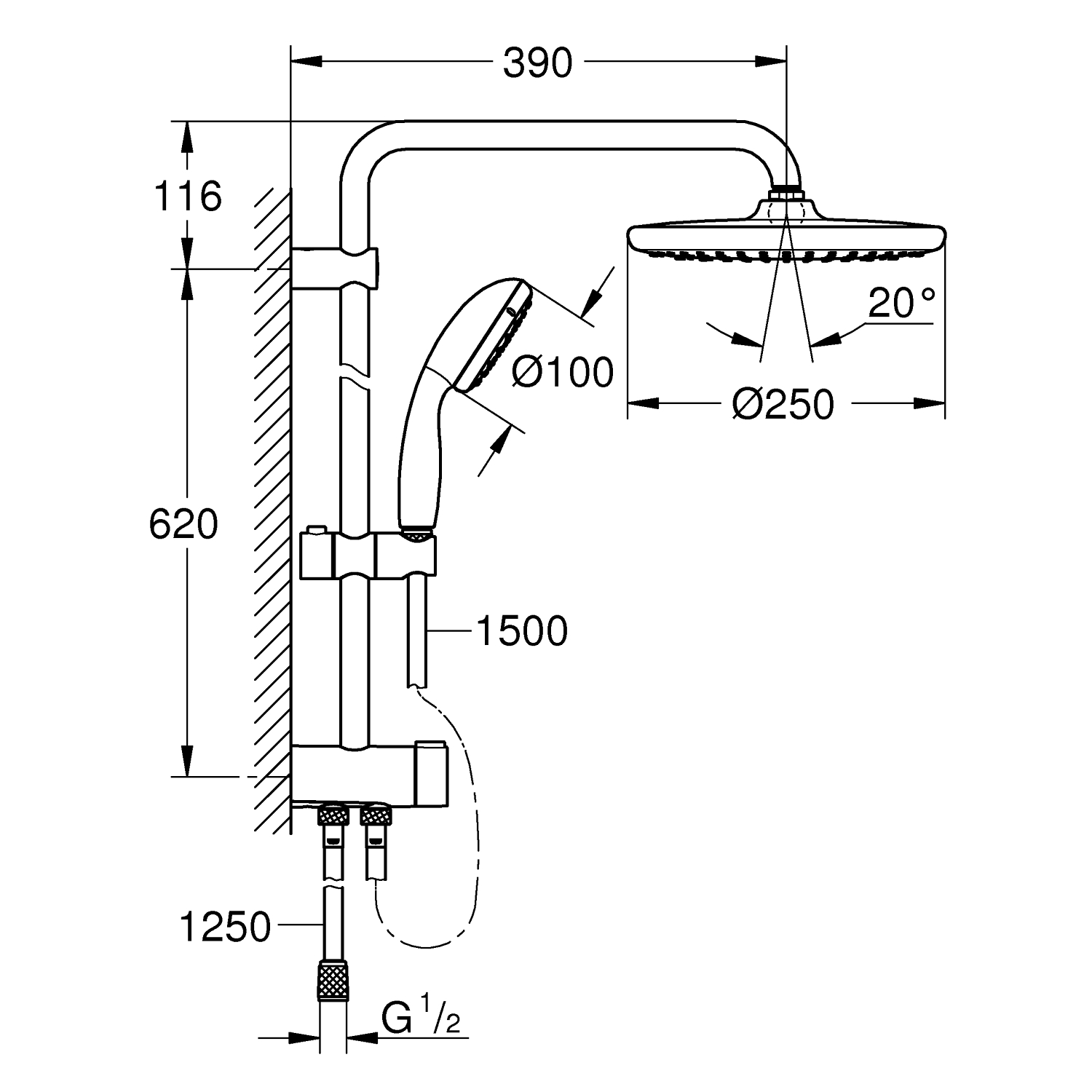 Vitalio Start System 250
Vitalio Start System 250 Flex shower system with diverter for wall mounting
---
---
Upgrade your daily shower experience with a cool matt black system that not only provides a choice of sprays and water-saving options, but which also offers you all the space you need. The exposed system for wall-mounting consists of a Vitalio Start 250 head shower, a Vitalio Start 100 hand shower, a diverter to switch easily between head and hand shower, a shower rail with 390mm shower arm and gliding element to adjust the hand shower, plus a 1500mm and 1250mm Vitalioflex Trend hose. The 250mm head shower offers a choice between the gentle, relaxing Rain Spray and the water-saving SmartRain Spray – activated with a simple turn of the diverter. And when you turn off the shower, the GROHE DripStop technology minimizes annoying after-dripping. The 100mm hand shower comes with a ShockProof silicone ring to protect it against drops and knocks. It has the soft Rain Spray. Both showers feature water-saving GROHE Water Saving – limiting flow to 9.5l/min on the head shower and 5.7l/min on the hand shower – for less water consumption but the same great performance. GROHE DreamSpray ensures the flow from each and every nozzle will be just right, making your shower as comfortable and enjoyable as can be. The SpeedClean nozzles are designed to brush free of limescale with a simple wipe. The durable, easy-care GROHE Long-Life finish keeps the shower system looking pristine for a lifetime. The flexible installation and easy connection via the 1250 mm hose makes this system compatible with the valves in your existing shower, so you can upgrade in no time. The GROHE Vitalio Start 250 Flex shower system in matt black – a versatile and stylish bathroom upgrade!
Product Details
Consisting of:
horizontal 390 mm shower arm, adjustable before installation
change by diverter between hand shower, head shower or head shower Eco setting
head shower Vitalio Start 250 (26 676)
2 spray patterns (via diverter):
Rain, SmartRain
head shower with black rear cover
with ball joint
rotation angle ± 10°
GROHE Water Saving 9.5 l/min flow limiter
hand shower Vitalio Start 100 (27 940)
1 spray pattern:
Rain
GROHE Water Saving 5.7 l/min. flow limiter
adjustable height via gliding element
distance between diverter and upper bracket: 620 mm
shower hose VitalioFlex Trend 1500 mm
shower hose VitalioFlex Trend 1250 mm

flexible installation: connection to tap / wall union for water supply with 1/2" thread of the 1250 mm shower hose

GROHE Water Saving - Less water, perfect flow
GROHE DreamSpray perfect spray pattern
GROHE Long-Life finish
SpeedClean anti-limescale system
Inner WaterGuide for a longer life
ShockProof silicone ring prevents damage caused by a shower falling
Consumer edition
Where do you want to buy this product?