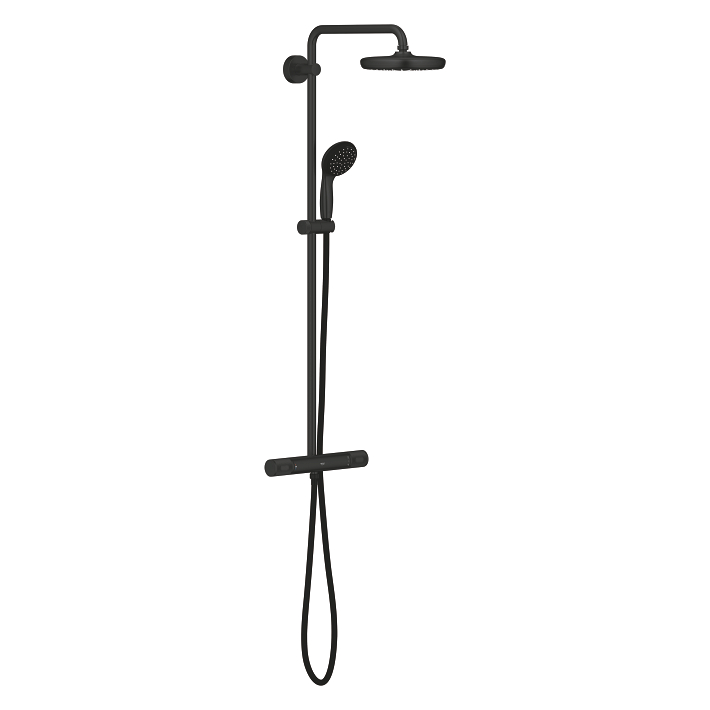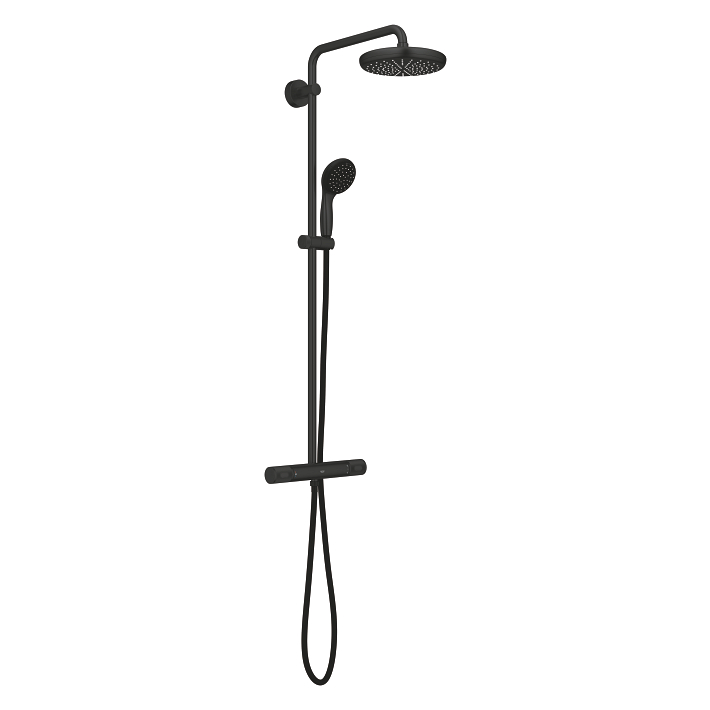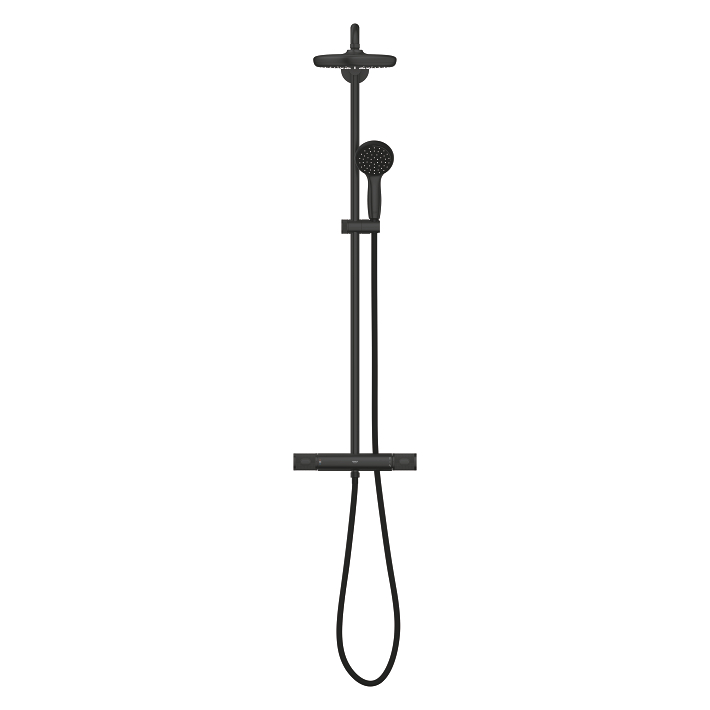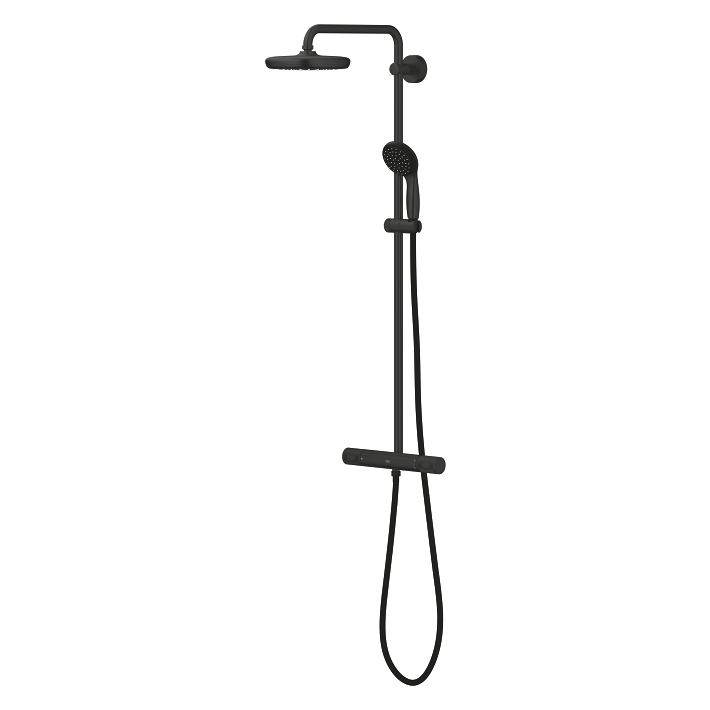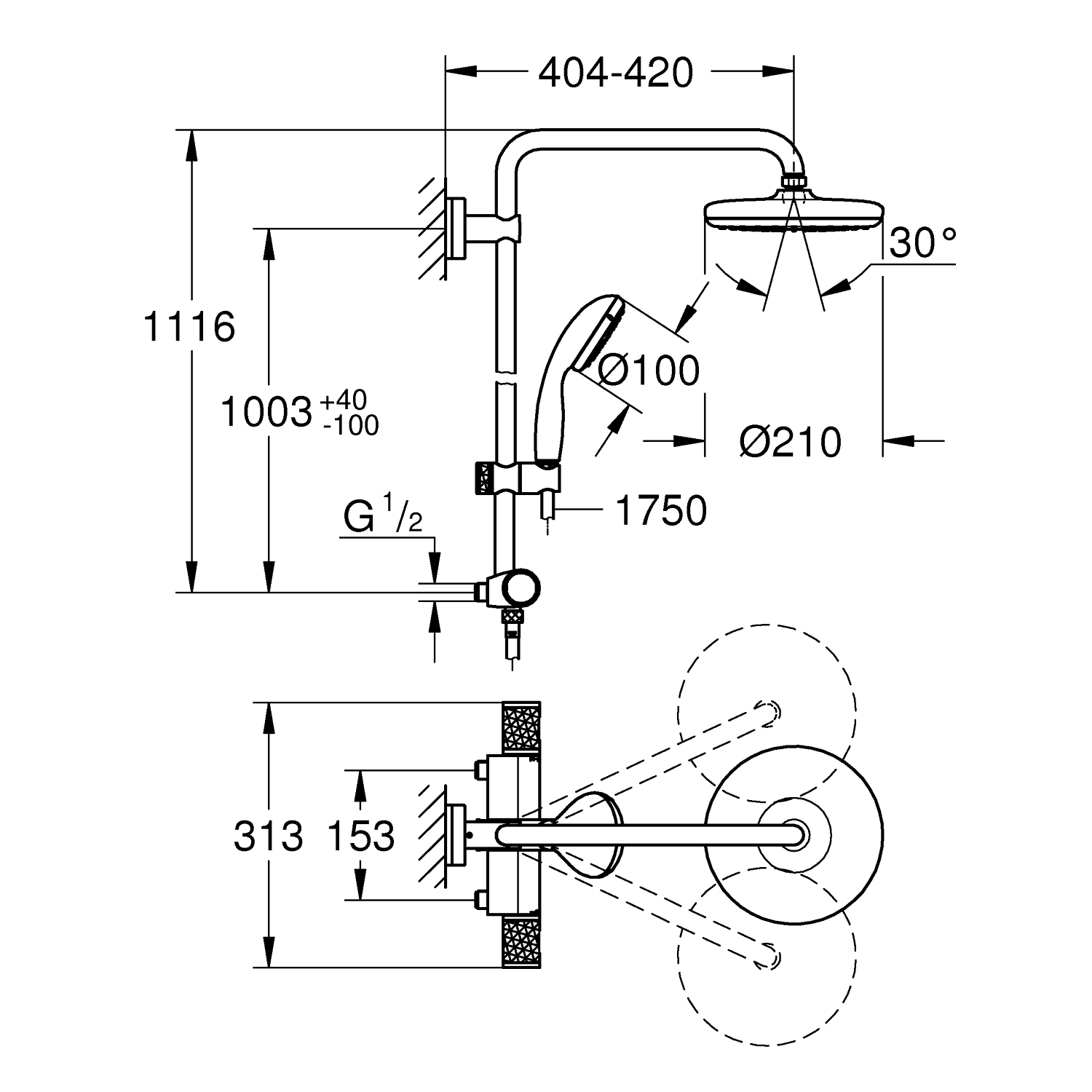 Vitalio Start System 210
Vitalio Start System 210 Shower system with thermostat for wall mounting
---
---
Instant designer style meets premium performance! With its sleek good looks and versatility the GROHE Vitalio Start 210 shower system with matt black finish and thermostat is a real boost to any bathroom. It is quick to fit and also packed with GROHE's cutting edge technology. Set your desired temperature with GROHE TurboStat and the water will stay just how you like it even if the supply fluctuates. And safety is guaranteed as GROHE CoolTouch ensures the thermostat body never gets too hot so there is no risk from scalding. The easy-to-use GROHE SafeStop feature limits the water temperature to a maximum of 38˚C – great for giving children independence in the bathroom. Optional SafeStop Plus allows you to set an additional limit at 43˚C. GROHE DreamSpray means the flow of water from every nozzle is even – perfect for the Vitalio Start 210 head shower's Rain Spray, which is soothing like summer rain. The 390mm arm swivels through 180˚ to create more flexibility. The Vitalio Start 100 hand shower, which has a 1750mm VitalioFlex Comfort TwistStop hose, allows you to rinse your hair with real precision and has two great sprays: the soft Rain Spray and the powerful Jet Spray. And the ShockProof silicone ring prevent damage if the hand shower is dropped. The gliding element makes adjusting the height and angle super fast. Control is easy thanks to the GROHE ProGrip ergonomic handles with a ridged surface that gives a great grip, even with soapy hands. And the AquaDimmer function lets you effortlessly control the volume of water while also directing the flow of water between the head and hand shower. GROHE Water Saving also reduces the water consumption but guarantees a satisfying shower: 9.5 l/min for head and 5.7 l/min for hand shower. The handy SpeedClean silicone nozzles are designed to brush free of limescale with a simple wipe of a finger. The multilayered matt black coating of the durable, easy-care GROHE Long-Life finish will look pristine for a lifetime. And thanks to GROHE FastFixation the system can be installed easily using existing drill holes as the upper bracket is adjustable. The handy GROHE EasyReach tray (26 362), which is sold separately, is a great place to keep soaps and shampoos.
Product Details
Consisting of:
horizontal swivable 390 mm projection shower arm
exposed thermostatic shower
with Aquadimmer function
allows change between:
head shower Vitalio Start 210 (26 415)
Rain spray pattern
GROHE Water Saving 9.5 l/min flow limiter
with ball joint
rotation angle ± 15°
hand shower Vitalio Start 100 2 sprays, 5.7 l/min (27 946)
2 spray patterns:
Rain, Jet
GROHE Water Saving 5.7 l/min. flow limiter
adjustable height via gliding element
shower hose VitalioFlex Comfort 1750 mm 1/2" x 1/2" (28 745)
GROHE TurboStat compact cartridge with wax thermoelement
GROHE SafeStop safety button at 38°C
( calibration required )
GROHE SafeStop Plus optional temperature limiter at 43°C included
GROHE CoolTouch prevents scalding on hot surfaces
GROHE ProGrip with knurl structure
GROHE DreamSpray perfect spray pattern
GROHE Water Saving - Less water, perfect flow
GROHE Long-Life finish
GROHE FastFixation upper bracket adjustable
ShockProof silicone ring prevents damage caused by a shower falling
SpeedClean anti-limescale system
Inner WaterGuide for a longer life
TwistStop preventing the hose from twisting
suitable for instantaneous heaters from 18 kW/h
minimum flow rate 7 l/min.
centre distance 153 mm
without straight unions
Consumer edition
Where do you want to buy this product?