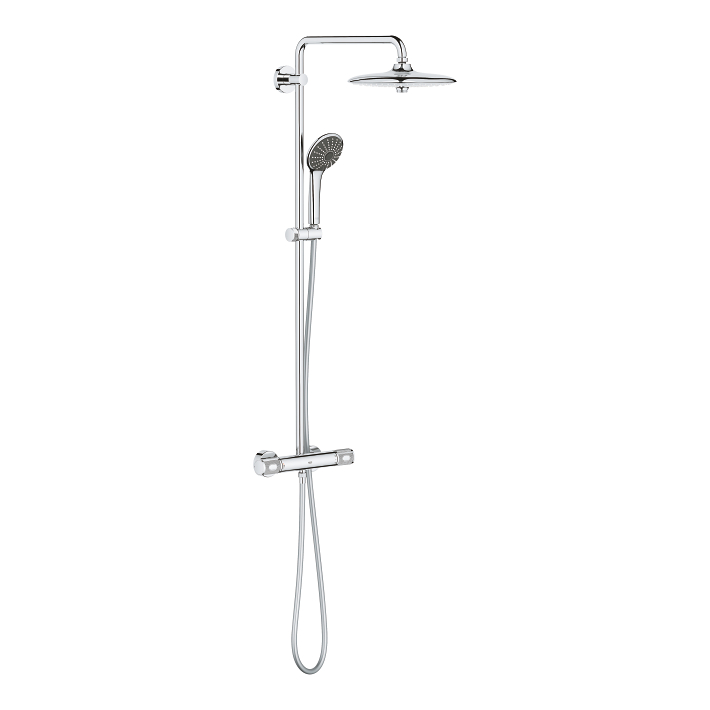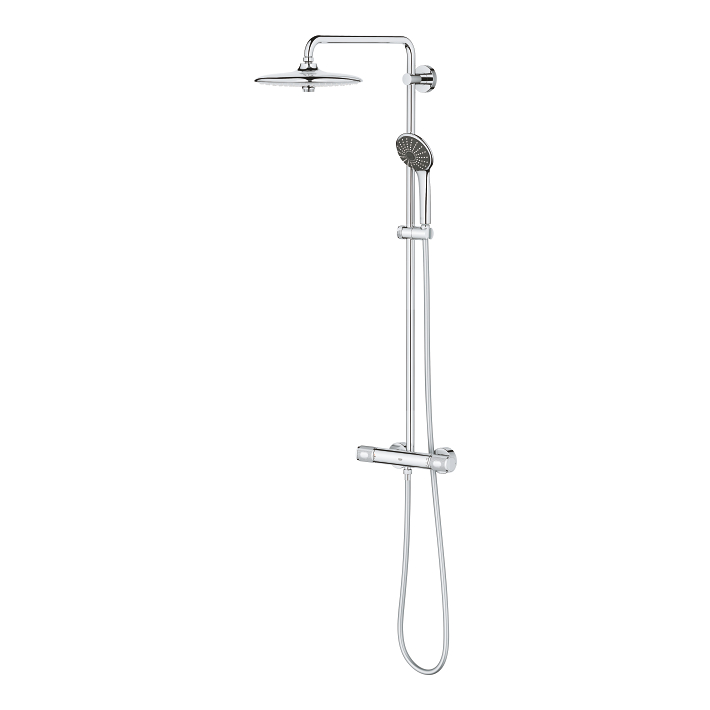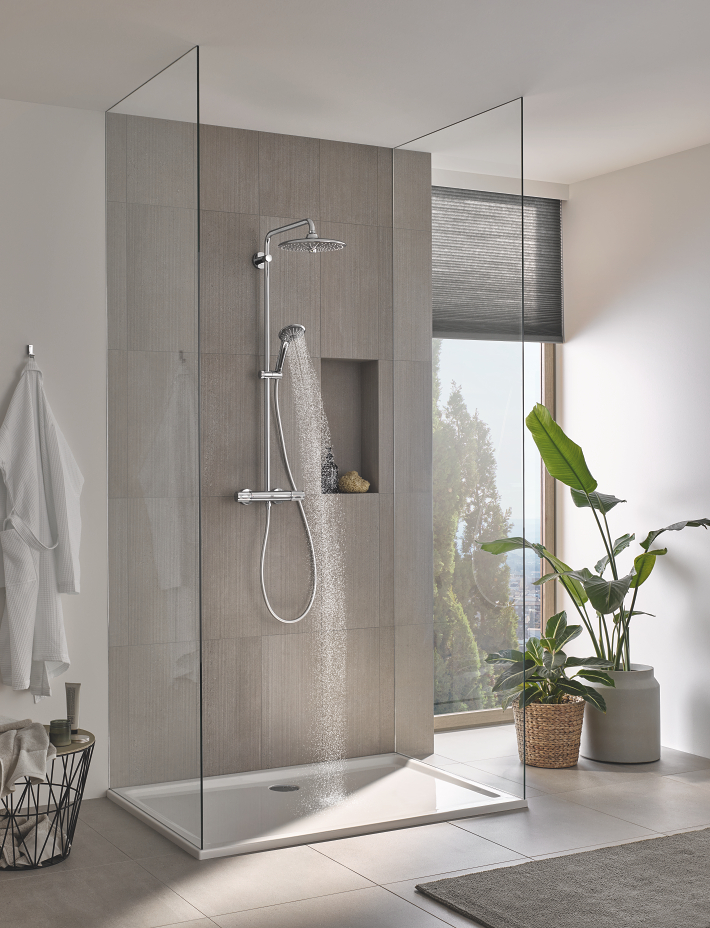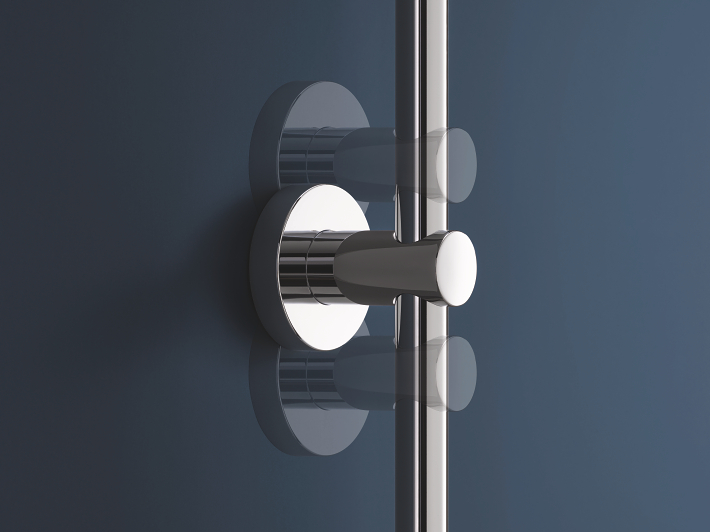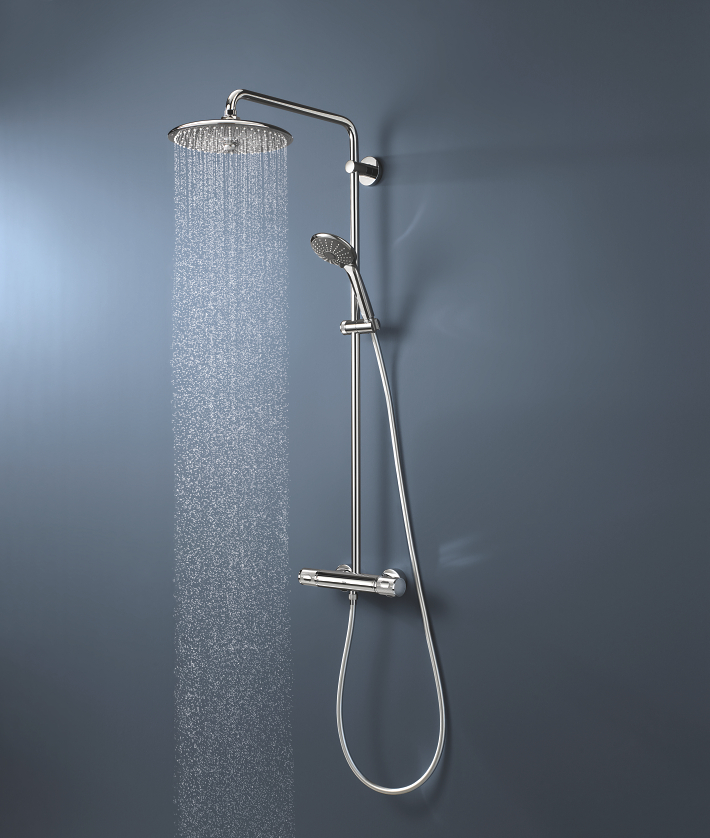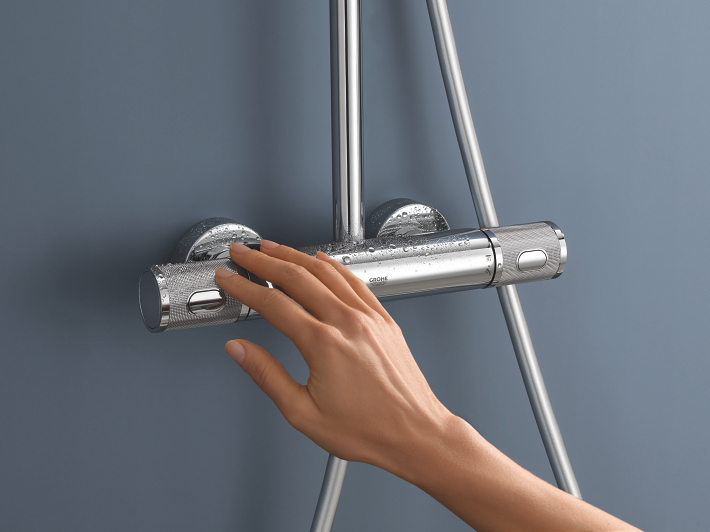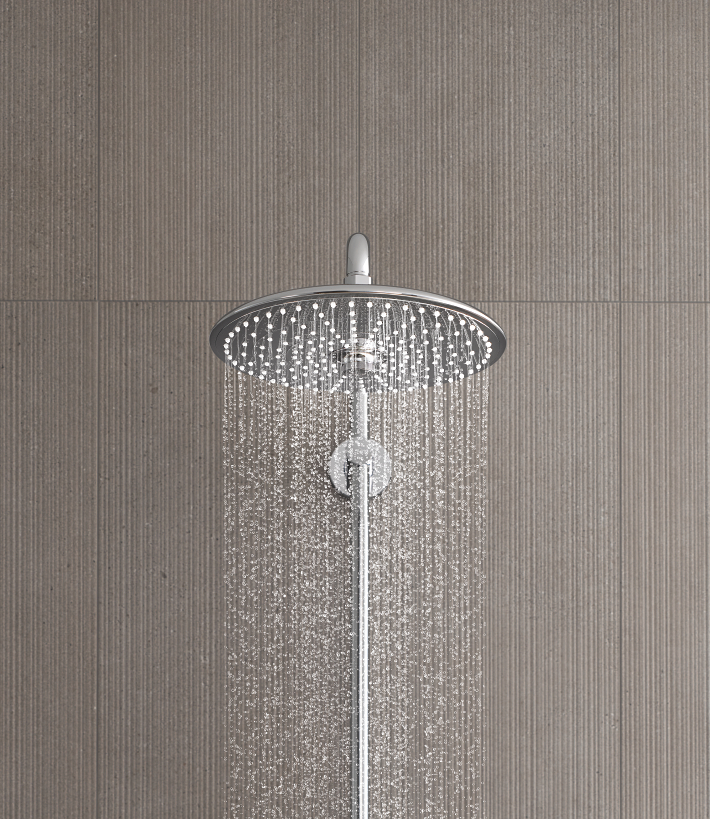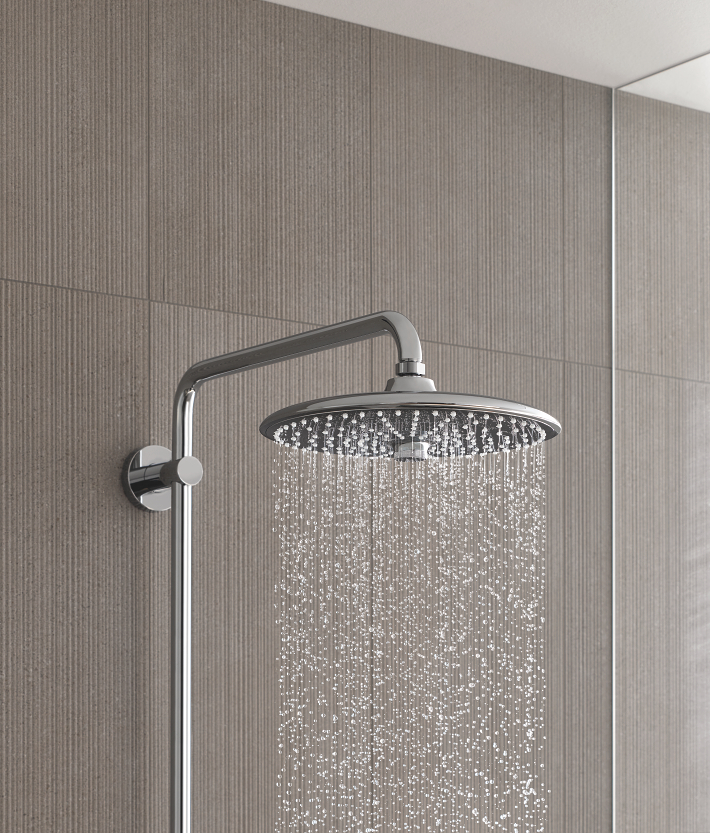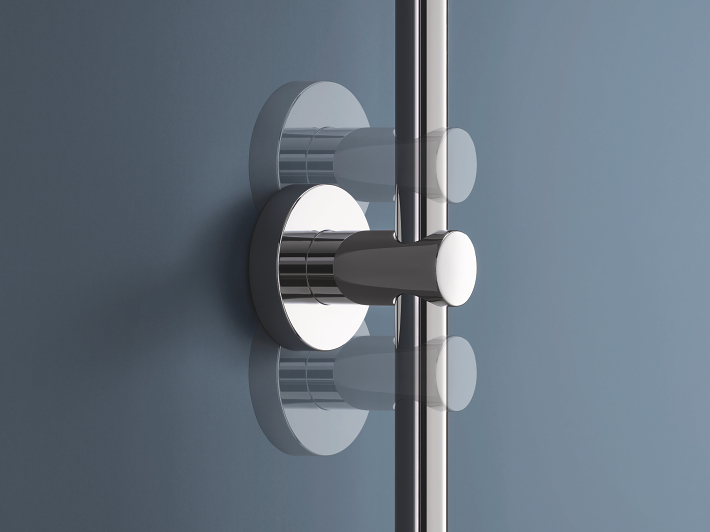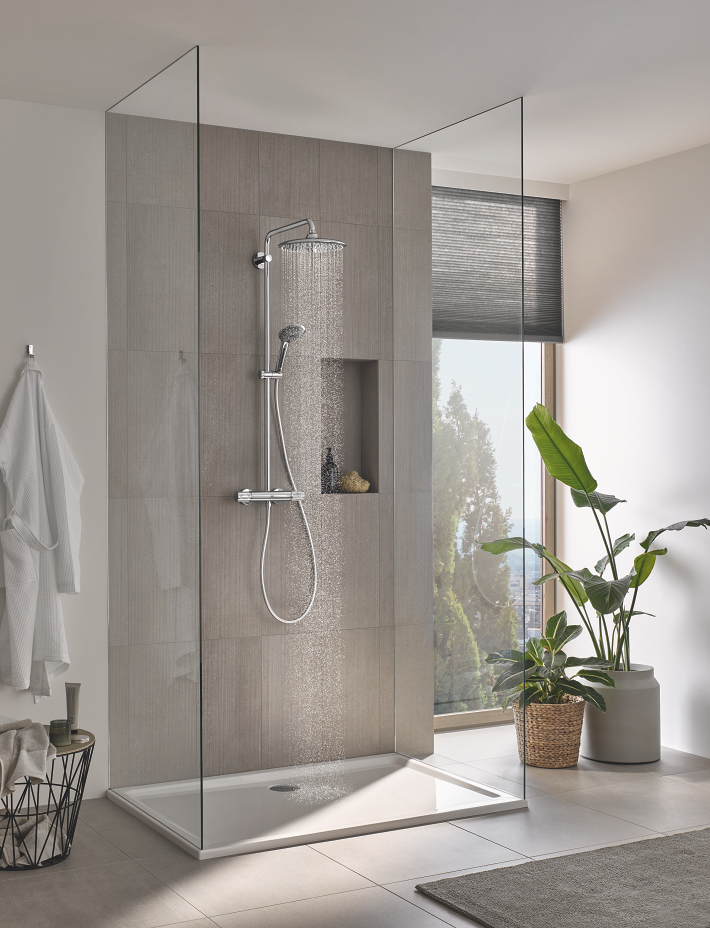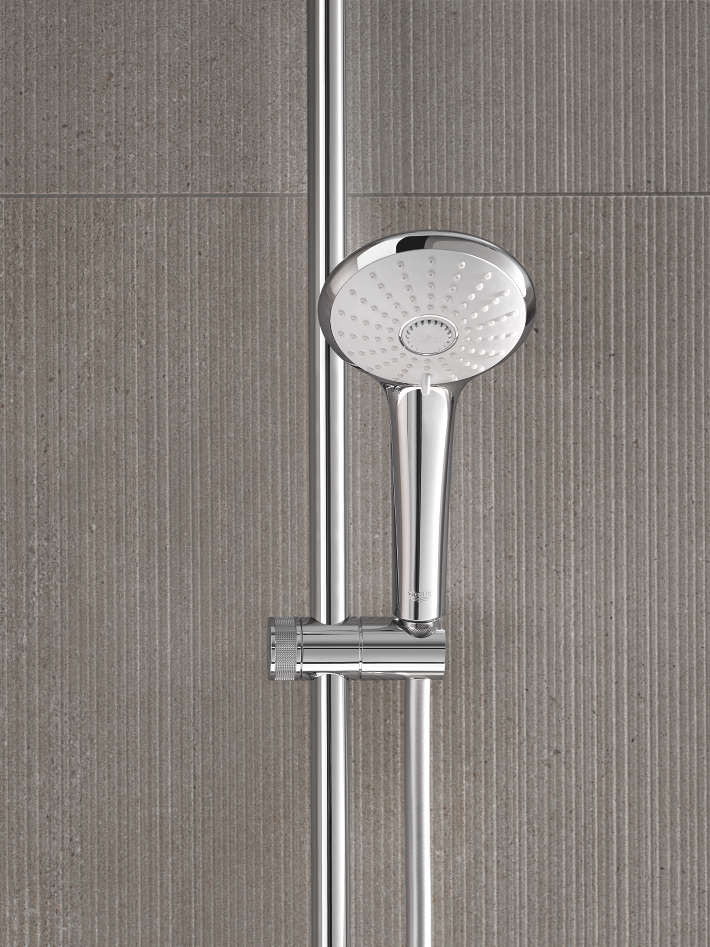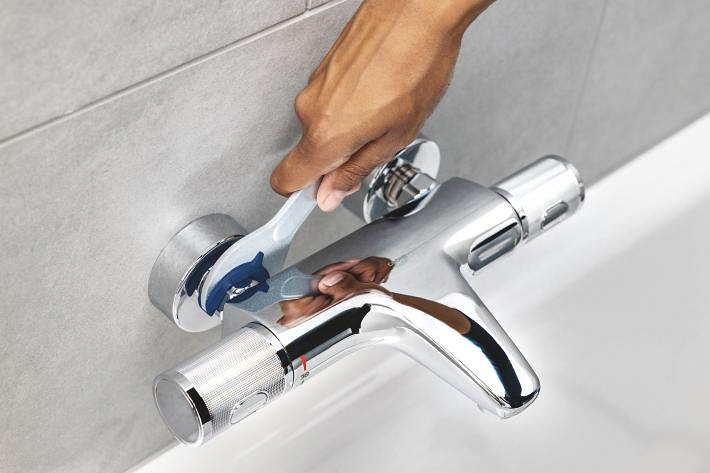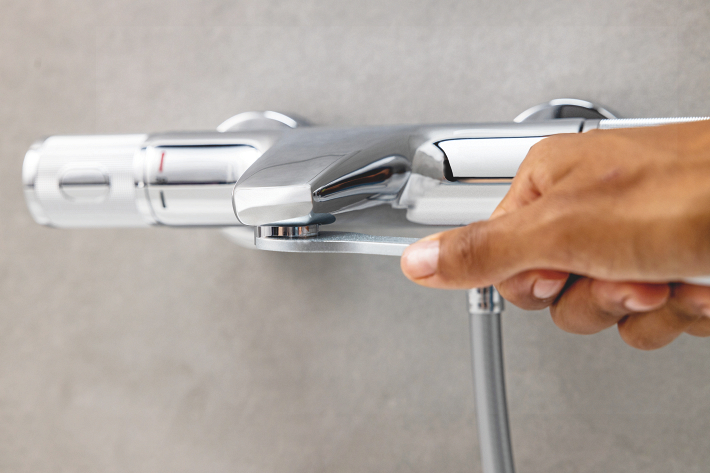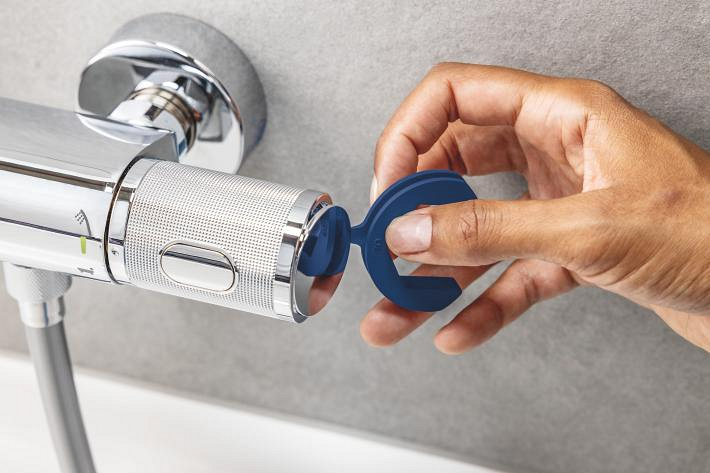 Vitalio Joy System 260
Vitalio Joy System 260 Shower system with thermostatic mixer for wall mounting
---
---
For modern style, top performance and extra safety the beautifully crafted Vitalio Joy 260 shower delivers instant modern style and performance. As it is quick to install, it is perfect for both new bathroom designs and quick upgrades. Packed with GROHE's cutting edge technology and featuring ergonomic handles, it is also a joy to use. Operation is intuitive using the GROHE ProGrip handles with textured surface – even with soapy hands. Set your desired temperature with GROHE TurboStat and the water will stay just how you like it even if the supply fluctuates. And safety is guaranteed as GROHE 100% CoolTouch ensures the entire thermostat body never gets too hot so there is no risk from scalding. The easy-to-use GROHE SafeStop feature limits the water temperature to a maximum of 38˚C – great for giving children independence in the bathroom – but can be raised for adults by unlocking the handle via the button. And the optional GROHE SafeStop Plus temperature limiter can be set to limit to 43°C for an extra level of safety. The AquaDimmer's handle lets you effortlessly control the volume of water while also directing the flow of water between the head and hand shower. GROHE DreamSpray means the flow of water from every nozzle of the head and hand shower is even. And the silicone SpeedClean nozzles are easy to keep free of dirt and limescale. The Vitalio Joy 260mm head shower has a 450mm swivel arm. Enjoy the luxury of 3 spray zones: simply turn the button in the centre of the spray plate to select the spray zone that perfectly matches your mood. The powerful and focused Jet Spray is ideal for an invigorating head massage or washing out shampoo; the SmartRain Spray is wider for a revitalising yet relaxing shower; and the all enveloping Rain Spray uses all the nozzles on the 260mm spray plate for full body coverage and a truly soothing experience. The Vitalio Joy 110mm Massage hand shower, which comes with a 1750mm twist-free VitalioFlex Silver hose and gliding element, also has three great sprays: soft Rain, water-saving SmartRain and the powerful Massage Spray. And for both showers GROHE EcoJoy limits the water flow to 9.5 l/min but still delivers pure and satisfying indulgence. The multilayered coating of scratch resistant GROHE StarLight chrome has a sparkle that lasts for years. And thanks to GROHE QuickFix it can be installed easily using existing drill hole as the upper bracket is adjustable. The handy GROHE EasyReach tray (26 362), which is sold separately, is a great place to keep soaps and shampoos. The German engineered GROHE Vitalio Joy 260 shower system delivers showering enjoyment that will last a lifetime!
Product Details
Consisting of:
horizontal swivable 450 mm projection shower arm
exposed Precision thermostat with Aquadimmer function
allows change between:
head shower Vitalio Joy 260 (26 462)
3 spray patterns:
Rain, SmartRain, Jet
with ball joint
rotation angle ± 15°
hand shower Vitalio Joy 110 Massage (27 319)
Rain, Massage, SmartRain
adjustable height via gliding element
shower hose VitalioFlex Silver 1750 mm, 1/2" x 1/2" (27 506)
GROHE TurboStat compact cartridge with wax thermoelement
GROHE SafeStop safety button at 38°C
( calibration required )
GROHE SafeStop Plus optional temperature limiter at 43°C included
GROHE CoolTouch prevents scalding on hot surfaces
GROHE ProGrip with knurl structure
GROHE DreamSpray perfect spray pattern
GROHE Long-Life finish
GROHE SprayDimmer (Stepless
flow rate reduction)
GROHE Water Saving 9.5 l/min flow limiter
GROHE FastFixation upper bracket adjustable
Inner WaterGuide for a longer life
SpeedClean anti-limescale system
TwistStop preventing the hose from twisting
suitable for instantaneous heaters from 18 kW/h
minimum flow rate 7 l/min.
Consumer edition
QuickSpanner included
Where do you want to buy this product?