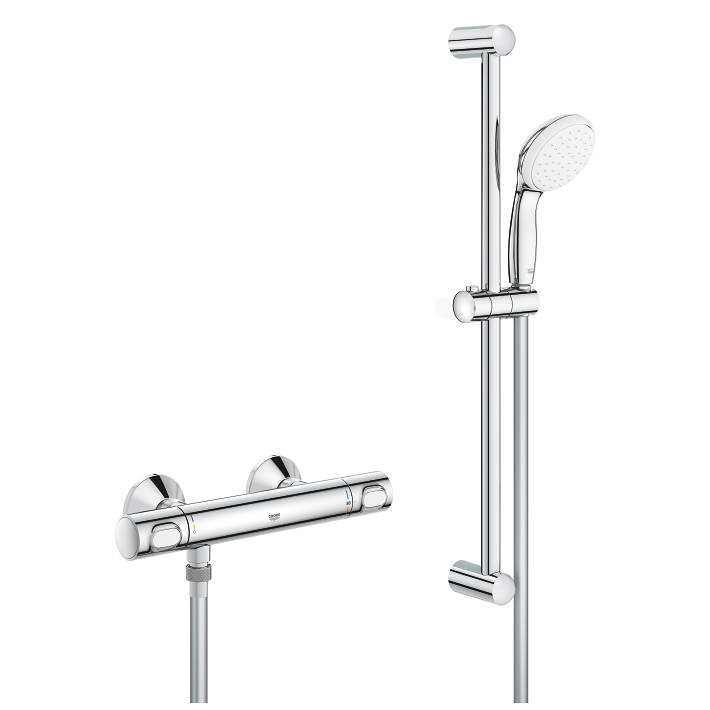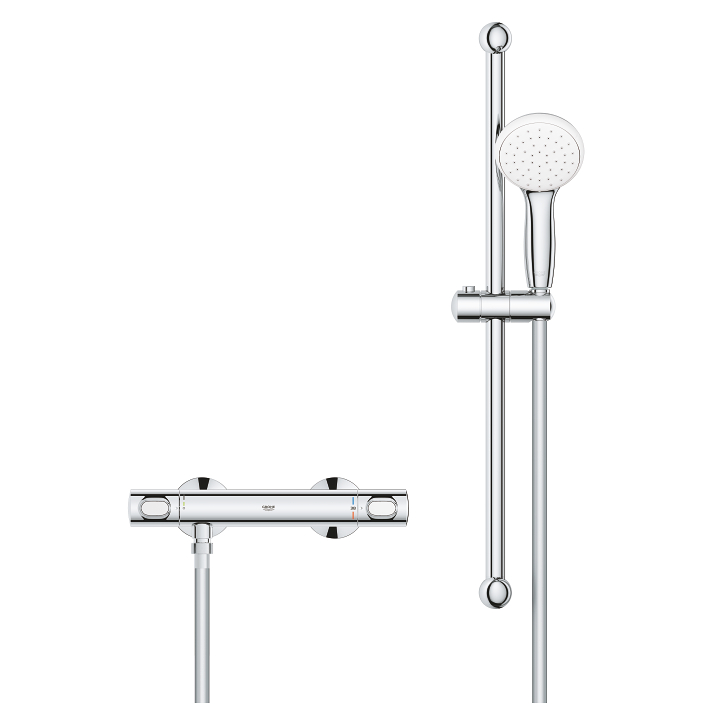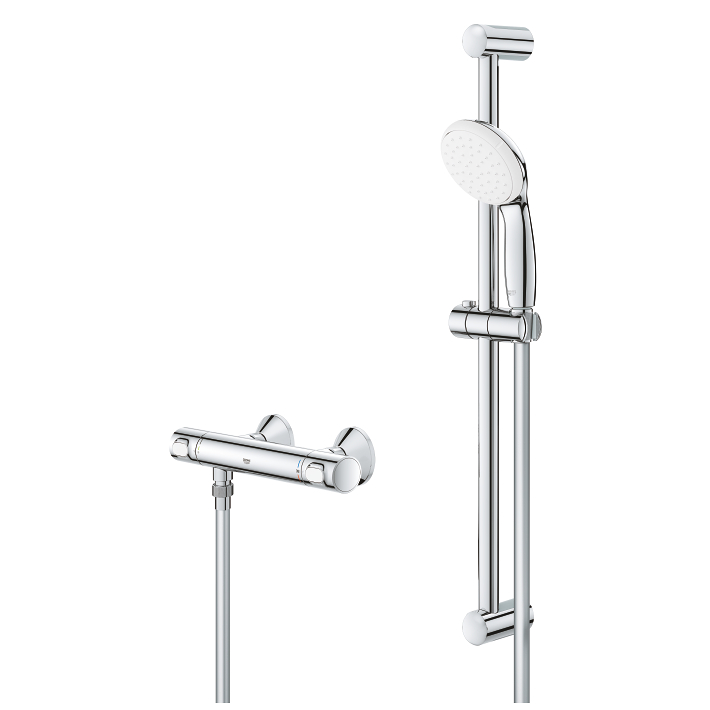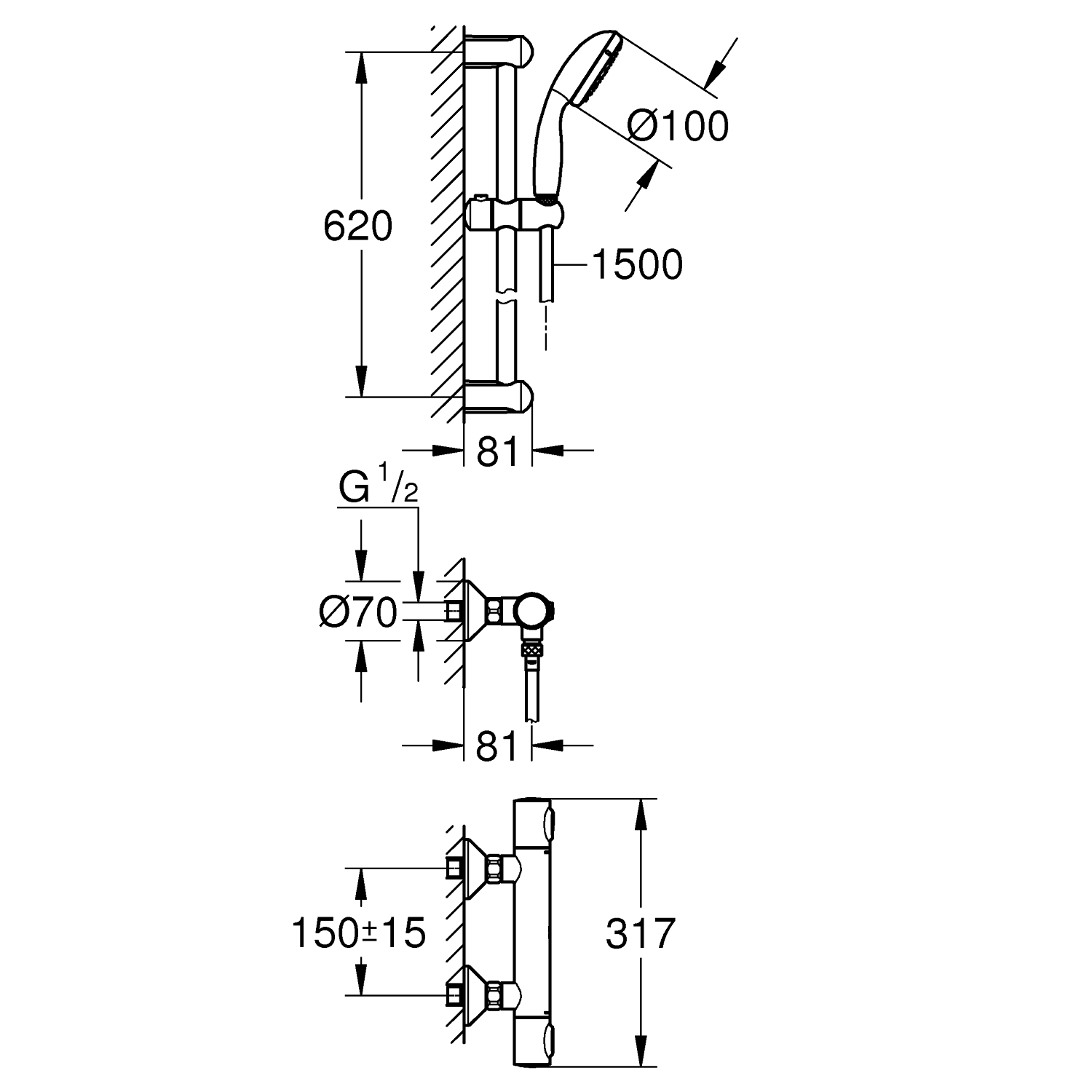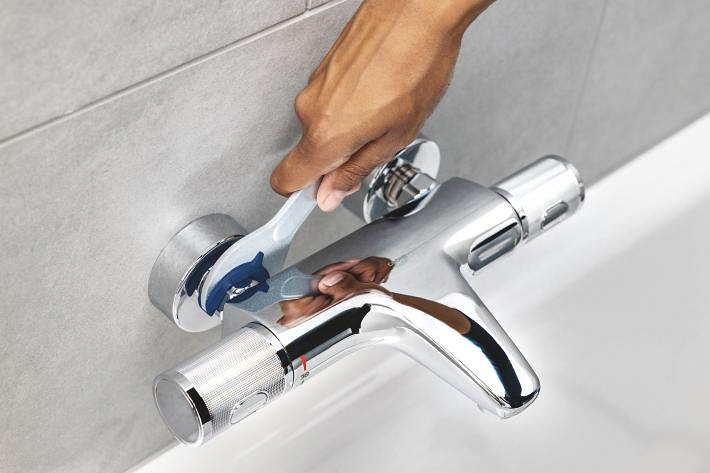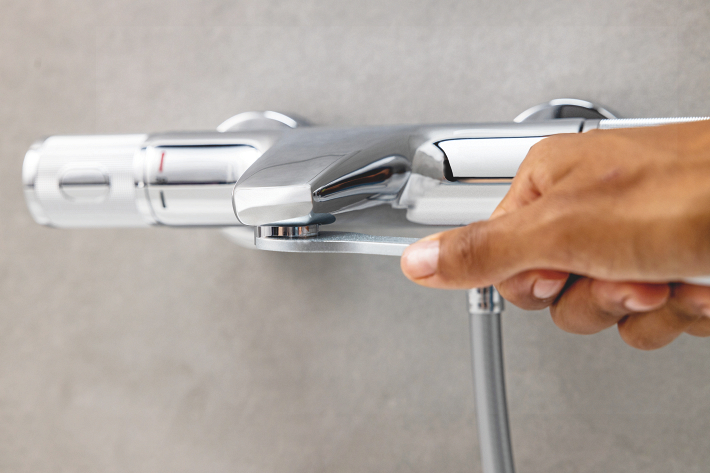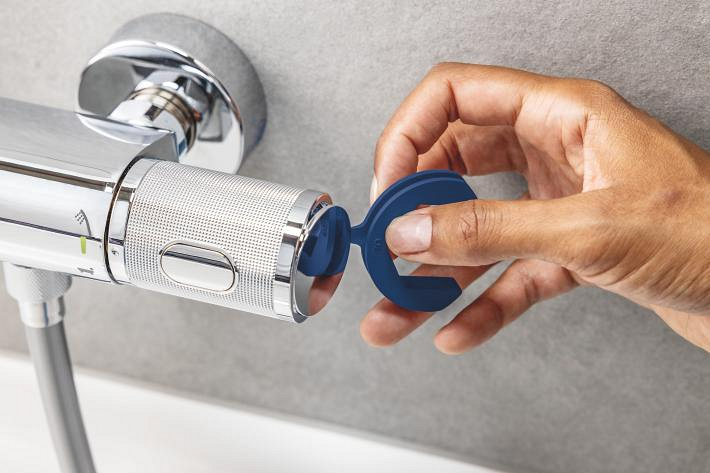 Precision Flow
Precision Flow Thermostatic shower mixer 1/2" with shower set for low pressure
---
---
Discover the smart thermostat that locks in your desired water temperature for a safe and sensational shower from the very start! This set is the ideal upgrade to the convenience of thermostatic showering. It comes with a GROHE Precision Flow shower thermostat, a Vitalio Go 100 hand shower, a 620mm rail and a 1750mm hose. GROHE thermostat technology ensures a constant supply of water at the perfect temperature with no unpleasant fluctuations. The GROHE Water Saving function reduces water and energy consumption in general, while the EcoButton limits the flow rate. When you need a full flow simply press this button to release the volume handle. It's also family-friendly, as the GROHE SafeStop override button is set at 38°C to prevent children in particular from unintentionally turning up the water temperature too high. The optional GROHE SafeStop Plus temperature limiter can be set to 43°C for an extra level of safety. And in case the cold water supply completely fails, an automatic safety shutdown reduces the water flow to a minimum. The 100mm diameter hand shower has a ShockProof silicone ring to protect it against damage if accidently dropped. GROHE DreamSpray technology ensures an even flow of water for the relaxing Rain Spray, while the SpeedClean nozzles can be easily freed of dirt and limescale. The sturdy hose is built to revel in hard work and can withstand water pressure up to 5 bar, tension up to 50kg and heat up to 70°C. The rail comes with a gliding element and swivel holder, so adjusting the height and angle of the shower is super easy. The durable, GROHE Long-Life finish is easy to clean and keeps the whole shower set looking pristine for years to come. And with its slim and flowing shape it offers a timeless design. Overall installation is surprisingly easy! Thanks to the GROHE QuickSpanner the mixer can be mounted with no need for further tools. The shower rail can be screwed or, for an even more convenient solution, glued! All you need is 2 x GROHE QuickGlue Set S2 (41247000, sold separately). If you still need some guidance, watch our QuickVideo or have a look at the QuickGuide. A minimum pressure of 0.5 bar is recommended! GROHE Precision Flow – performance and precision at an amazing price!
Product Details
Consisting of:
Precision Flow thermostatic shower mixer 1/2" (34 840)
Vitalio Go 100 shower rail set for low pressure, 1 spray, 620 mm rail (27 214 + 28 161 + 27 523)
min. recommended pressure 0.5 bar to comply with EN1111
suitable for screwing (including screws and dowels) or gluing (GROHE QuickGlue S 41 247 000 sold separately - 2 x needed)
holding force: max. 20 kg
the specified holding capacity is valid for static (slowly applied) load and intended use only
QuickSpanner included
Where do you want to buy this product?