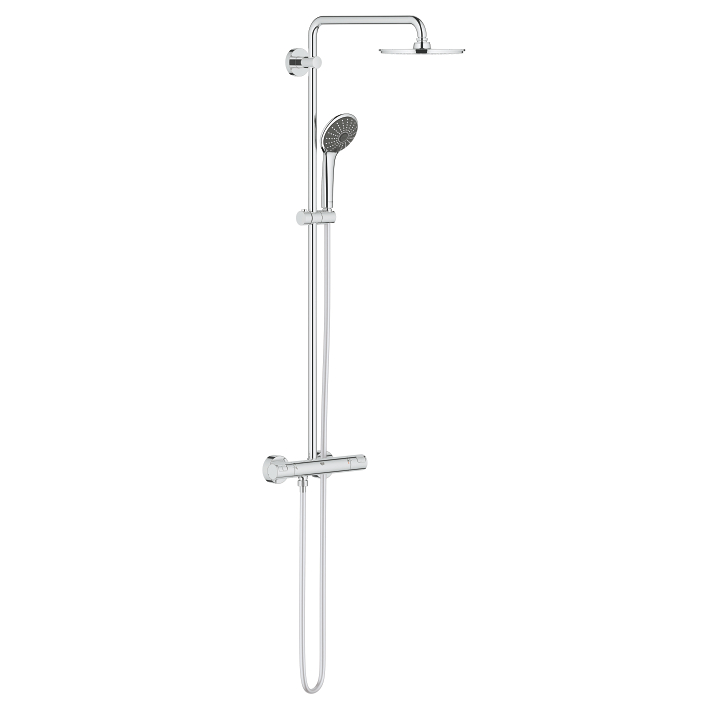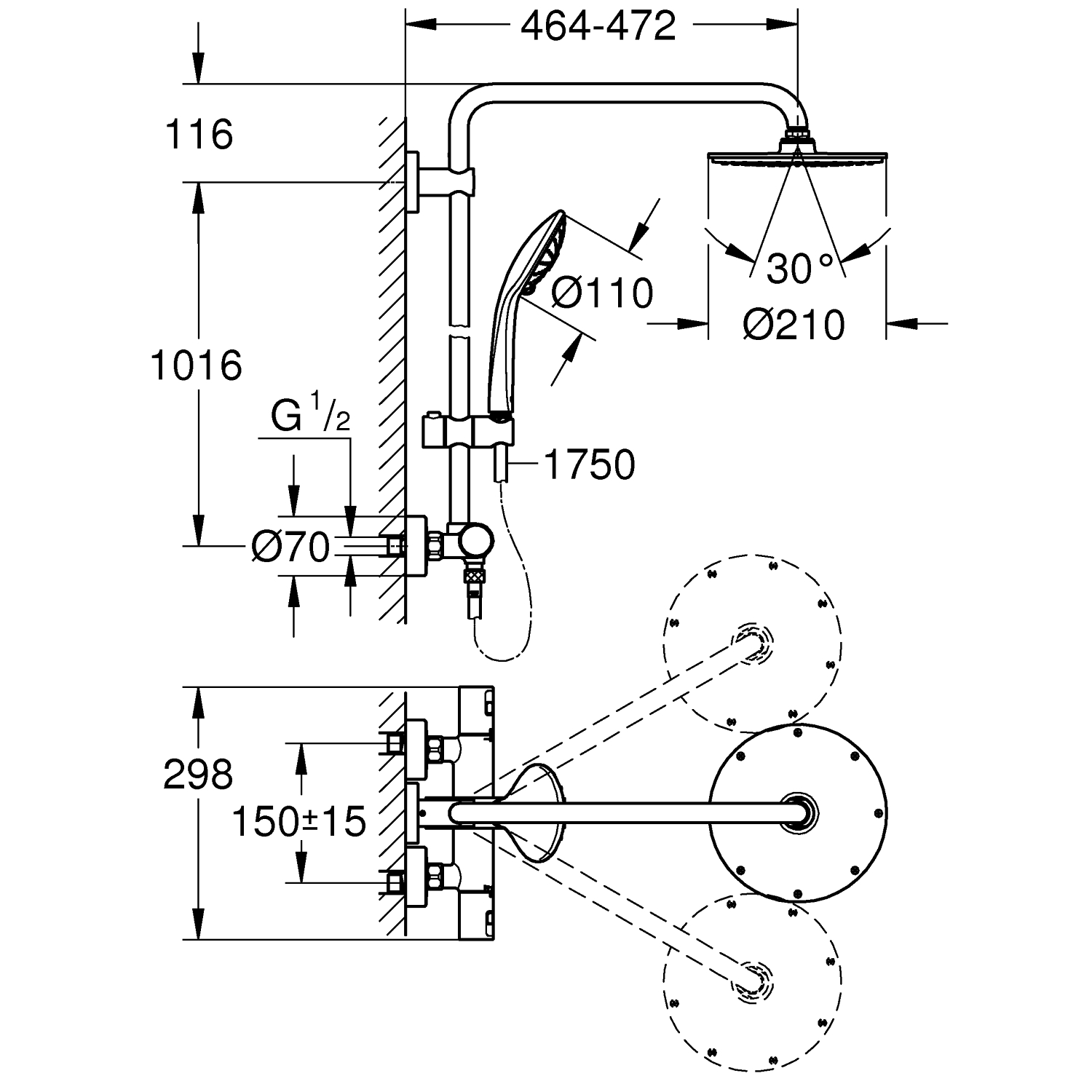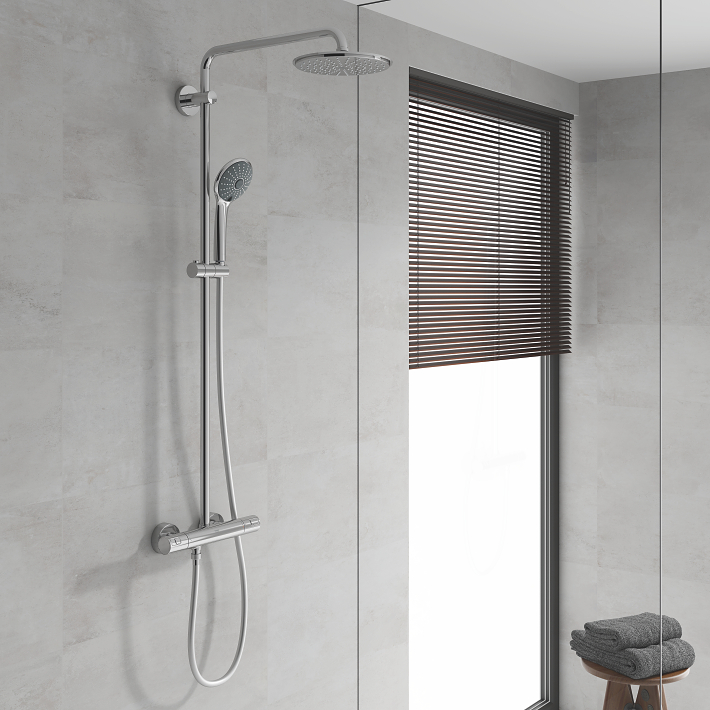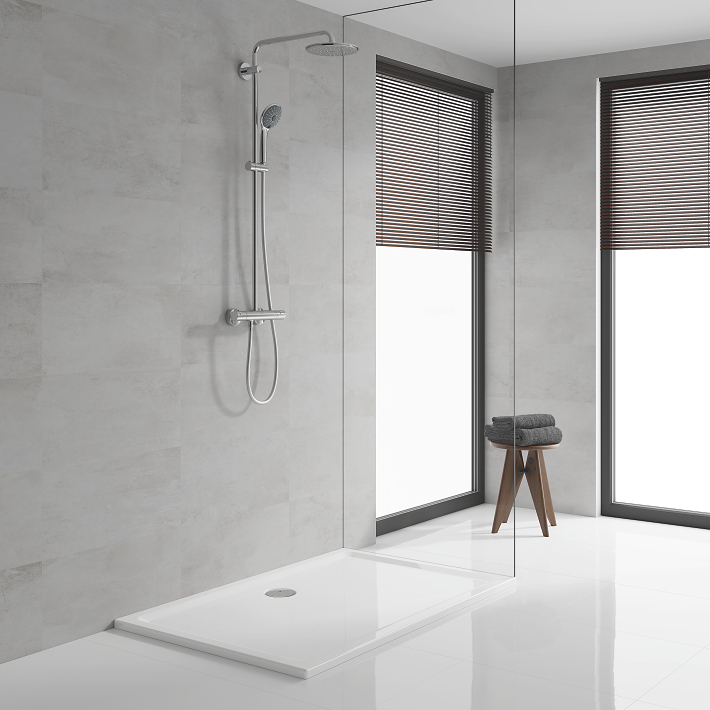 Vitalio Joy System 210
Vitalio Joy System XXL 210 Shower system with thermostat for wall mounting
---
---
Wake up to just how good a shower can be with the high-performance, versatile GROHE Vitalio Joy  XXL shower system with thermostat. Indulge yourself with the 210mm head shower's super soft PureRain Spray. In addition the Vitalio Joy 110mm Massage hand shower offers 3 different spray patterns to suit your mood: there's a gentle Rain Spray, the water-efficient SmartRain and a revitalising Massage Spray. The GROHE TurboStat technology guarantees a constant temperature throughout with no nasty fluctuations and GROHE DreamSpray ensures an even flow from every nozzle. The GROHE AquaDimmer  offers smooth control of water volume and effortless switching between head and hand showers while the GROHE DropStop function prevents drips after you shut the shower off. Family-friendly, it also features the GROHE SafeStop button which can limit the temperature to 38°C to prevent scalding and an Inner WaterGuide that keeps the shower's surfaces cool to the touch. Easy to clean, the SpeedClean silicone nozzles  can be brushed free of limescale with just your finger, and the dazzling GROHE Starlight chrome finish is a scratch-resistant surface that will stay sparkling for years to come. 
Product details
Consisting of:
horizontal swivable 450 mm projection shower arm
allows change between:
head shower metal Ø 210 mm
Rain spray pattern
with ball joint
rotation angle ± 15°
hand shower Vitalio Joy 110 Massage (27 319)
3 spray patterns:
Rain, SmartRain, Massage
GROHE SprayDimmer (Stepless
flow rate reduction)
adjustable height via gliding element
shower hose VitalioFlex Silver 1750 mm, 1/2" x 1/2" (27 506)
minimum flow rate 7 l/min.
GROHE DreamSpray perfect spray pattern
GROHE Long-Life finish
GROHE TurboStat compact cartridge with wax thermoelement
GROHE SafeStop safety button at 38°C
( calibration required )
GROHE SafeStop Plus optional temperature limiter at 43°C included
SpeedClean anti-limescale system
Inner WaterGuide for a longer life
TwistStop preventing the hose from twisting
suitable for instantaneous heaters from 18 kW/h
Everything in the box! Your product, your installation tool, your easy step-by-step guide and a convenient installation video.
Product

For every style, for every size, for everyone! With GROHE QuickFix shower products, you will find the perfect match for your bathroom style

QuickSpanner

The QuickSpanner is a smart Multi-Tool for all wall-mounted exposed products like thermostats, bath mixers or shower mixers. It combines two grades of spanner for the installation and a smart cap-opener to adjust the water-temperature and flow to your personal needs. Everything you need for your installation and care.

QuickVideos

Let our team take you through the installation. Just scan the QR-Code and watch our QuickFix How-To videos on demand

QuickGuides

You prefer an easy, step-by-step installation manual? Our QuickGuides are in every box and guide you through the installation.

Five Years Guarantee

All our products come with a 5 years warranty. For our Start Bath and Start Kitchen lines, you can extend your warranty from 5 to 6 years.

Simply register here

.